H. Robert Horvitz, Ph.D.




Dr. Horvitz received the Nobel Prize in Physiology or Medicine in 2002. He is the David H. Koch Professor of Biology at the Massachusetts Institute of Technology, an Investigator of the Howard Hughes Medical Institute, Neurobiologist (Neurology) and Geneticist (Medicine) at Massachusetts General Hospital, and a member of the M.I.T. McGovern Institute for Brain Research and the M.I.T. Koch Institute for Integrative Cancer Research. He is cofounder of NemaPharm, Inc., Idun Pharmaceuticals and Epizyme.

Dr. Horvitz received S.B. degrees in mathematics and economics from the Massachusetts Institute of Technology and a Ph.D. in molecular biology from Harvard University. Dr. Horvitz is a member of the Board of Trustees of the Massachusetts General Hospital and is Chairman of the Board of Trustees of the Society for Science and the Public. He was President of the Genetics Society of America. Dr. Horvitz is a member of the U.S. National Academy of Sciences, the U.S. Institute of Medicine and the American Philosophical Society and is a Foreign Member of the Royal Society of London. He is a Fellow of the American Academy of Arts and Sciences and of the American Academy of Microbiology. Dr. Horvitz received the U.S. National Academies of Science Award in Molecular Biology; the Charles A. Dana Award for Pioneering Achievements in Health; the Ciba-Drew Award for Biomedical Science; the General Motors Cancer Research Foundation Alfred P. Sloan, Jr. Prize; the Gairdner Foundation International Award; the March of Dimes Prize in Developmental Biology; the Genetics Society of America Medal; the Bristol-Myers Squibb Award for Distinguished Achievement in Neuroscience; the Wiley Prize in the Biomedical Sciences; the Peter Gruber Foundation Foundation Genetics Prize; the American Cancer Society Medal of Honor; the Alfred G. Knudson Award of the National Cancer Institute; and the U.K. Genetics Society Mendel Medal. Dr. Horvitz is also Chair of the Medical and Scientific Advisory board for MPM Capital.

Bennett Shapiro, M.D.




Dr. Shapiro is a Senior Partner and Chairman of the Board of PureTech Ventures. Formerly he was Executive Vice President in charge of Worldwide Basic, Preclinical, Licensing and External Research for Merck, where he was responsible for programs that resulted in FDA registration of approximately 25 drugs and vaccines. He has been a Board member of a number of life science companies, including VBL, Celera, Momenta, Elixir, Satori, and Ikaria, as well as serving on the Board of Drugs for Neglected Disease Initiative.

Dr. Shapiro received his M.D. from Jefferson Medical College. He joined Merck Research Laboratories in 1990 as Executive Vice President, Basic Research. Drugs that received FDA approval under his leadership include Vioxx, Arcoxia, and Emend, and stretch as far back as the A2 antagonist Cozaar, the hepatitis A vaccine VACQTA, and many others. From 1999-2003, Dr. Shapiro oversaw all in-licensing activities for Merck. Previously, he was Professor and Chairman of the Department of Biochemistry at the University of Washington. He is the author of over 120 papers on the molecular regulation of cellular behavior and the biochemical events that integrate the cascade of cellular activities at fertilization.

Raju Kucherlapati, Ph.D.




Dr. Kucherlapati the Paul C. Cabot Professor of Genetics and a Professor of Medicine and at Harvard Medical School and was the first Scientific Director of the Harvard-Partners Center for Genetics and Genomics. He is a fellow of the American Association for the Advancement of Science and a member of the Institute of Medicine of the National Academy of Sciences. He was a founder and formerly a Board member of Abgenix, Cell Genesys, and Millennium Pharmaceuticals and is currently a Board member of AVEO Pharmaceuticals.

Dr. Kucherlapati received his Ph.D. from the University of Illinois at Urbana. He trained at Yale University and held faculty positions at Princeton University, University of Illinois College of Medicine, and the Albert Einstein College of Medicine. His laboratory at Harvard Medical School is involved in cloning and characterization of human disease genes with a focus on human syndromes with a significant cardiovascular involvement, use of genetic/genomic approaches to understand the biology of cancer and the generation and characterization of genetically modified mouse models for cancer and other human disorders. He served on the editorial board of the New England Journal of Medicine and was Editor in Chief of the journal Genomics.

Rakesh Jain, Ph.D.




Dr. Jain is the Andrew Werk Cook Professor of Tumor Biology in the Department of Radiation Oncology at Harvard Medical School and the Director of the Edwin L. Steele Laboratory of Tumor Biology at Massachusetts General Hospital. He was awarded the Academic Scientist of the Year Award from the Pharmaceutical Achievements Awards and the Distinguished Service Award from Nature Biotechnology. He is a member of the National Academy of Sciences, the National Academy of Engineering, the Institute of Medicine and the American Academy of Arts and Sciences.

Prior to joining Harvard in 1991, Dr. Jain served as Assistant Professor of chemical engineering at Columbia University (1976-78), and as Assistant (1978-79), Associate (1979-83) and Full Professor (1983-91) of chemical engineering at Carnegie Mellon University.

Dr. Jain is regarded as a pioneer in the fields of tumor biology, drug delivery, in vivo imaging and bioengineering. He is known for revealing the physiological barriers to delivery and efficacy of anticancer drugs, for proposing strategies to overcome these barriers and for translating these strategies from bench to bedside. His work has fundamentally changed the thinking of scientists and clinicians about how molecularly targeted therapeutics, especially antiangiogenic agents, actually work in animal models and cancer patients, and how to combine them optimally with cytotoxic therapies to improve survival rates in cancer patients.

Dr. Jain's findings are summarized in more than 535 publications, including three in Scientific American. He serves on advisory panels to government, industry and academia, and editorial boards of ten journals, including Nature Reviews Cancer and Nature Reviews Clinical Oncology. He has received more than 50 major awards and lectureships, including a Guggenheim Fellowship (1983-84), the Humboldt Senior Scientist Award (1990-91), the National Cancer Institute's Research Career Development Award (1980-85) and Outstanding Investigator Grant (1993-2000), and the Department of Defense Breast Cancer Research Innovator Award (2000-05).

Sanjiv Sam Gambhir, M.D., Ph.D.




Dr. Gambhir is the Virginia and K.D. Ludwig Professor of Cancer Research and Chair of Radiology at Stanford University. He also directs the Molecular Imaging Program at Stanford and the Canary Center at Stanford for Cancer Early Detection. He has founded several biotechnology startups and is a member of the Institute of Medicine (IOM) of the US National Academies.

Dr. Gambhir received a M.D. and Ph.D. from the University of California Los Angeles (UCLA) and moved to Stanford in 2003. Dr. Gambhir has a translational science laboratory focused on multimodality imaging and is a member of the Bio-X program at Stanford University. His laboratory has developed methods to image gene expression and cell therapies in living subjects including humans. These imaging strategies have been translated into clinical trials for human gene/cell therapies. He has developed several small animal imaging strategies for studying basic cell/molecular biological events including imaging protein-protein interactions, intramolecular folding, and cell trafficking. Dr. Gambhir has extensive experience with clinical FDG PET, and developed many of the original management algorithms for cancer patients that led to FDG reimbursement by Medicare. He has received several awards including the Taplin Award (2002), Holst Medal (2003), the Academy of Molecular Imaging Basic Scientist Award (2004), the Society of Molecular Imaging Achievement Award (2004), the Distinguished Clinical Scientist Award from the Doris Duke Charitable Foundation (2004), the Hounsfield Medal for Imperial College London (2006), the Aebersold Award from Society of Nuclear Medicine (2006), and the Tesla Medal from the British Radiological Society (2008). He is one of 35 members of the National Cancer Institute (NCI) Scientific Advisory Board and co-hosted the Nobel Symposium on Molecular Imaging in Stockholm in 2007.

Daphne Zohar




Ms. Zohar is the founder and managing partner of PureTech Ventures, a Boston-based venture creation firm. She has been recognized by Fierce Biotech as one of the "Top 10 Women in Biotech" and by the Boston Globe as one of the "Top 15 Innovators." She sits on the Boards of Directors of 9 companies and was the founding CEO of three of those companies. Ms. Zohar also serves on the Technology Development Fund Advisory Board at Children's Hospital Boston and is an editorial advisor to Xconomy, a national technology news blog.

A successful entrepreneur, Ms. Zohar created PureTech Ventures and assembled a leading team from the highest echelon of pharma, biotech and academia to help implement her vision for the firm, which is to translate breakthrough research from top tier academic institutions into therapies that will impact human health and well-being. She is widely respected in the world of entrepreneurs, including being recognized by BioWorld as one of 28 leaders predicted to be the "movers and shakers" of the biotechnology industry over the next twenty years. She sits on the Boards of Directors of Enlight Biosciences, PureTech Ventures, Follica Inc., KNODE Inc., Vedanta Bioscience, Mandara Sciences, Karuna Pharmaceuticals, Tal Medical, and Satori Pharmaceuticals.

David Steinberg




Mr. Steinberg is a Partner at PureTech Ventures. He is a board member of Enlight Biosciences and served as founding CEO. In addition, he is the founding CEO of Endra, Inc. and Knode, Inc., and was a member of the founding team for Entrega, Follica, Satori Pharmaceuticals, and Ensof Biosystems. Prior to joining PureTech, he was a strategy consultant with the Boston Consulting Group and Vertex Partners, and previously was a research associate with Procter and Gamble Pharmaceuticals. He earned an M.B.A. from the University of Chicago Booth School of Business in strategy and finance with high honors and a B.A. in Biology with distinction from Cornell University.

Jonathan Behr, Ph.D.




Jon focuses on new business creation, operations, and business development activities at Enlight. Prior to joining Enlight he was a Principal with PureTech Ventures where he was a member of the founding teams of companies including Enlight, Endra, Vedanta, Mandara, and Tal Medical. Currently, Jon is also serving as COO of the Enlight portfolio company, Entrega. Jon earned his Ph.D. in Biological Engineering at M.I.T., as a Howard Hughes pre-doctoral fellow, and his B.S. in Biological Engineering from Rice University with Honors, summa cum laude, where he was Phi Beta Kappa co-valedictorian. He was awarded the inaugural Rice Bioengineering Outstanding Undergraduate Alumnus award for his post-baccalaureate achievements.

Ketki Karanam, Ph.D.




Dr. Karanam is a Senior Analyst at PureTech Ventures, and is part of the Enlight Immersive Health team. She completed her doctoral work at Harvard University in the Department of Systems Biology, focusing on DNA repair in cancer cells. While a graduate student, Dr. Karanam served as a Fellow with the Harvard Office of Technology Development, where she worked on translating emerging life science technologies into commercial healthcare products. Dr. Karanam received her B.S. in Microbiology from Pune University, India and her M.S. in Biological Sciences from the Indian Institute of Science, during which time she held the national JNCASR and Rajiv Gandhi Science Talent fellowships. She received her PhD in Systems Biology from Harvard.
John Halamka, MD, MS




John Halamka is a Professor of Medicine at Harvard Medical School, Chief Information Officer of Beth Israel Deaconess Medical Center, Chairman of the New England Healthcare Exchange Network (NEHEN), co-Chair of the national Healthcare Information Technology Standards Committee (HITSC), co-Chair of the Massachusetts Healthcare Information Technology Advisory Committee (HITAC) and a practicing Emergency Physician.

As Chief Information Officer of Beth Israel Deaconess Medical Center, he is responsible for all clinical, financial, administrative and academic information technology serving 3000 doctors, 14000 employees and two million patients. As Chairman of NEHEN he oversees clinical and administrative data exchange in Eastern Massachusetts. As co-Chair of the HITSC he facilitates the process of electronic standards harmonization among stakeholders nationwide. As co-Chair of the Massachusetts HITAC, he engages the stakeholders of the Commonwealth to guide the development of a statewide health information exchange.

Isaac Kohane, MD, PhD




Isaac Kohane is the director of the Boston Children's Hospital Informatics Program and the co-Director of the Harvard Medical School Center for Biomedical Informatics. Dr. Kohane leads multiple collaborations at Harvard Medical School and its hospital affiliates in the use of genomics and computer science to study diseases (particularly cancer and autism) through the perspective of biological development. He also has developed several computer systems to allow multiple hospital systems to be used as "living laboratories" to study the genetic basis of disease while preserving patient privacy. Among these, the i2b2 (Informatics for Integrating Biology and the Bedside) National Computing Center has been deployed at over 52 academic health centers internationally.

Dr. Kohane has published over 200 papers in the medical literature and authored a widely used book on Microarrays for an Integrative Genomics. He has been elected to multiple honor societies including the American Society for Clinical Investigation, the American College of Medical Informatics, and the Institute of Medicine. He leads a doctoral program in genomics and bioinformatics at the Division of Health Sciences and Technology at Harvard and MIT. He is also a practicing pediatric endocrinologist.

Joseph Kvedar, MD




Joe Kvedar is the Founder and Director of the Center for Connected Health, Partners HealthCare, working to create a new model of healthcare delivery, by developing innovative strategies to move care from the hospital or doctor's office into the day-to-day lives of patients. Dr. Kvedar is leveraging information technology – cell phones, computers, networked devices and remote health monitoring tools – to improve care delivery. He established the first physician-to-physician online consultation service in an academic setting, linking patients from around the world with specialists at Harvard-affiliated teaching hospitals. Based on the technology platform developed at the Center, Healthrageous, a personalized health technology company, was launched in 2010; Dr. Kvedar was a Co-Founder and Chair of the company's Scientific Advisory Board.

Dr. Kvedar is internationally recognized for his leadership and vision in the field of connected health, and has authored over 90 publications on the subject. Dr. Kvedar serves as a strategic advisor at West Health Institute and BD Technologies, and is a mentor at Blueprint Health and Rock Health, providing guidance and insight to developing companies.

John Spinale




John Spinale was most recently the Senior Vice President and General Manager of Social Games, where he oversaw Disney's social and mobile gaming business. John joined Disney in November 2011 from OnLive, the cloud-based entertainment service. As OnLive's Vice President of Games and Media, John led the creation of the original cloud-based games platform. Before OnLive, John developed numerous interactive entertainment organizations at companies including Eidos, where he served as Senior Vice President of Product Development during its recent turnaround and sale, and at Activision, where he played an instrumental role in their emergence from bankruptcy and revival in the early 90's. John also has a successful track record as an entrepreneur, having founded and run Bitmo, a wireless messaging start-up, which was acquired in 2001; as well as the NileGuide, a travel planning startup that was sold in 2012. John holds an engineering degree from Yale and currently serves as an advisor to several startups.

Hugo Stephenson, MD




Hugo Stephenson is a respected clinical trialist, serial entrepreneur and medical practitioner. For the past 10 years Hugo has been an executive leader at Quintiles, where he built the company's global phase IIIB/IV business, project coordination center for centralized monitoring, and its direct-to-patient research services. Hugo retired from Quintiles at the end of 2011 to more actively participate in disruptive companies, and joined DrugDev as Executive Chairman in 2013. Prior to that, he founded Health Research Solutions, an Australian strategic research service provider acquired by Quintiles in 2002. Dr. Stephenson has a particular interest in strategic epidemiology and risk management and works closely with senior industry strategists to promote the use of strategic research activities to support advances in pharmaceutical research. He holds degrees in medicine and surgery from the University of Melbourne.
About Enlight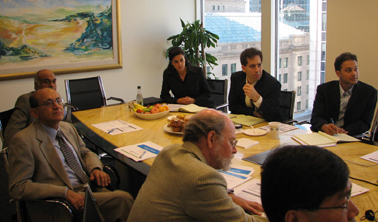 Healthcare goes beyond an annual visit to the doctor's office and the prescription that follows. It's about engaging patients to take a more active role in understanding their health, empowering them to make better decisions about their well-being in regular, daily environments, and enabling providers to deliver quality care in real-world settings. Healthcare should be a patient-centric, immersive experience.
Enlight's Immersive Health initiative is advancing patient-centric technologies and platforms that may impact all aspects of the connected health ecosystem from patient engagement and experience, to patient-focused research and development. Enlight provides a mechanism through which our strategic partners can collaboratively support the rapid and tailored development of these high impact technologies.